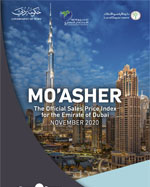 In November Dubai Land Department recorded 3,927 property sales transactions worth AED 7.65 billion. This was 15.6 percent more than October in terms of volume and almost 10 per cent more in terms of value. 38.2 percent of these transactions were from the off-plan market and 61.8 percent of these transactions were in the secondary market. November 2020 confirms the trend that secondary/ready villa/townhouses are in high demand after three continuous record breaking months.
As per Property Finder analysis, overall secondary/ready apartment and villa/townhouse sales are the highest ever since April 2014. Secondary apartment sales in November have been the highest in the past 16 months. September, October and November were recording breaking months for secondary villa/townhouses historically.
This brings the overall total for real estate sales transactions this year to 31,693 with a total value of AED 65 billion.
Dubai real estate market performance due to the proactive measures taken and protocols set by the Dubai Government is now back to a pre-covid sales transactions records. To date, we have been going toward a V-shaped recovery and when we look at the numbers, from the lowest numbers we had in May (1,452 transactions) the market has recovered by almost 270 percent.
Property Finder analysis shows that the top areas for overall sales in November 2020 were Dubai Marina (14.5 percent), Business Bay(10.6 percent), Jumeirah Village Circle (7.4 percent), Downtown Dubai (6.3 percent) and Palm Jumeirah (4.9 percent). 22.4 percent of the transactions were for 1-bedroom units, 21.9 percent for 2-bedroom units and 20.4 percent for 3-bedroom units.
Looking at proprietary data from Property Finder, the search and demand trends show us that the top five locations for consumers searching for residential units in Dubai were Dubai Marina, Palm Jumeirah, Downtown Dubai,  Dubai Hills Estate and Arabian Ranches. Keywords such as 'furnished', 'upgraded' and 'sea-view' were the top three keywords in the month of November 2020.